Carlos' Cabins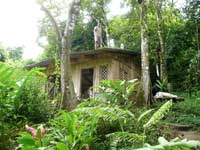 Carlos lives on the property with his wife Susana and their young daughter. Carlos used to be the surf bum of the family surfing the waves in front of the resort. Now Carlos is the pastor in the local church, which is also built on the Amaya family homestead, below Katherine's Cabins. Samuel has taken over the title of the surf bum of the family.
Carlos has built three cabins close to his home and a fourth near the beach. The cabins near Carlos's home are nestled into the rainforest along the ridge surrounding the beach and birds and monkeys are frequent visitors. Carlos is a skilled carpenter and all the cabins have wonderful design features. The beach cabin is near those of Anna's and Poor Mans Paradise.





Per Night / Person
Number of Cabins
Kids Prices
$82
4
Kids under 4 a 50% discount
Kids 4-12 a 25% discount
**NOTE: Transportation to resort extra.